An Incomparable Golf Experience... An Unforgettable Course
The Rim Golf Course offers a golf experience like no other. Thanks to Payson's mild climate, avid golfers can relish year-round golf and enjoy true four-season playability.
Towering ponderosa pines, spectacular views, and massive rock formations all complement the course, the ultimate championship collaboration of Tom Weiskopf and Jay Morrish.
Situated at an elevation of 5000 feet, The Rim offers a challenging golf experience for all levels of golf play. This beautiful course can be played from 5,200 to 7,200 yards, with forested fairways woven through dramatic rock outcroppings and the largest stand of Ponderosa pines in the country. The natural elevations and native vegetation enhance the strategic challenge of the hazards, with water coming into play on six holes. Best of all, the course continually frames the breathtaking splendor of the Rim Country, with stunning views of the surrounding mountains and forest on every hole.
"Playability" is the hallmark of Tom Weiskopf and Jay Morrish Golf Course designs and is the number one priority of The Rim golf course. According to Weiskopf-Morrish principles, a great course must be enjoyable for players of every level. Each hole must create a risk and challenge, and every hole should reward a well-planned and executed golf shot. True to their legacy, The Rim is their final and ultimate collaboration. Mr. Weiskopf states: "The twelve finest consecutive holes Jay and I ever designed are here at The Rim Club, starting with hole number 7."
Your personal golf experience is designed to meet your interests and skills. It's easy to meet other golfers and make new friends through various weekly golf play days for both men and women. Or, the professional golf staff will connect you with other members of similar playing level. It's easy to make your own tee times on our online tee sheet. You can reserve up to two weeks in advance.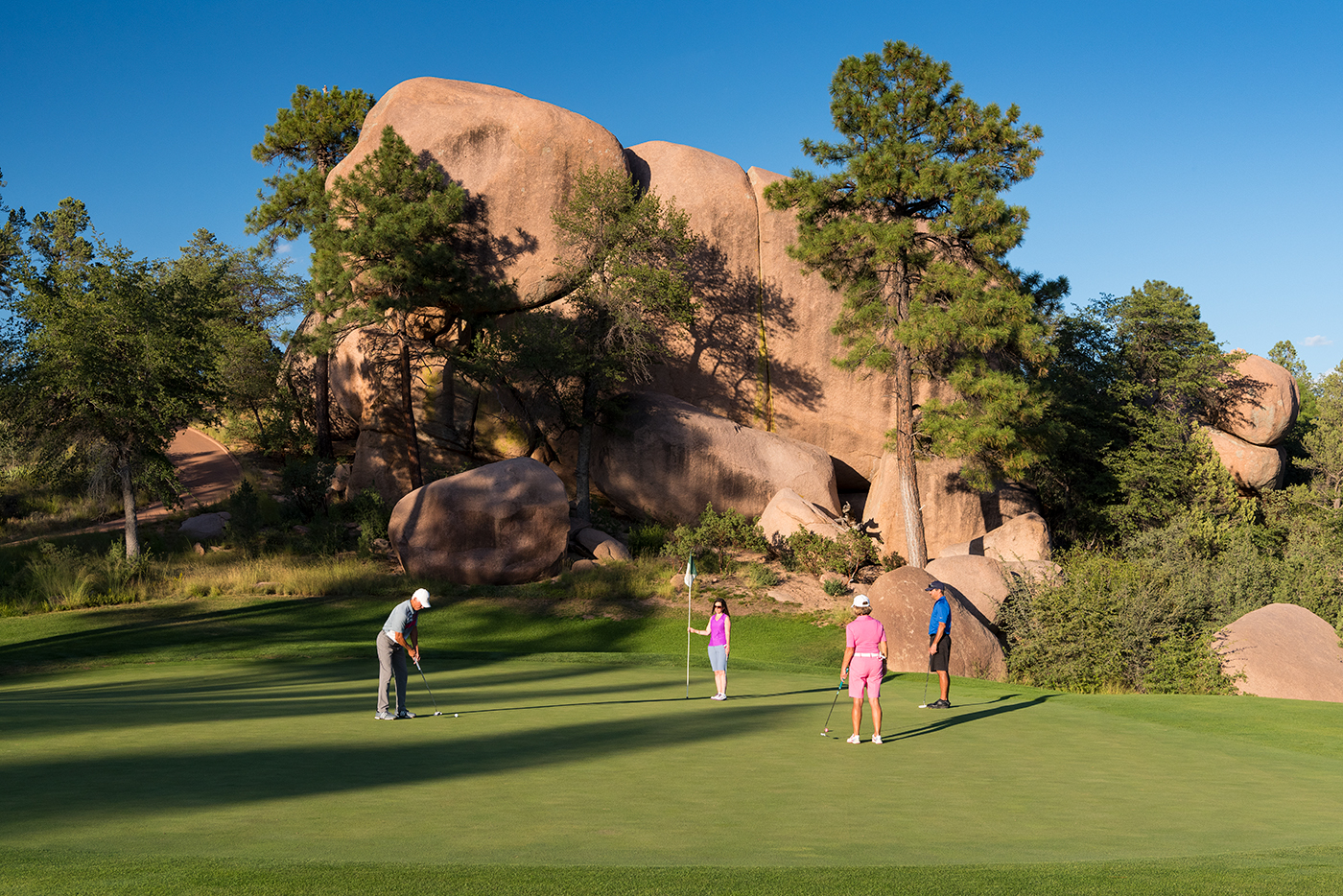 Our practice facility opens an hour minutes before the first tee time, and remains open throughout the day. You can hone your skills on the driving range, sand bunkers, or chipping area…and work on your putting on our 9 hole putting course. Enjoy the clear blue skies and fresh air as your perfect your wedge shots - - and watch bald eagles soaring over the club!
If competition is what drives you, you'll find plenty of opportunities to test yourself throughout the year. From casual holiday tournaments to interclub play to our men's, women's, and couples' club championships…competitive play is available at all levels.
Our men's invitational, The Showdown, and women's invitational, The Challenge in the Pines, frame the summer portion of the golf season. These events provide an outstanding opportunity to share friendly Rim Club hospitality and our beautiful course with your favorite golf buddy, while you build new friendships that will last a lifetime.
Enjoy playing with your spouse on the weekend? We set aside the first hour of tee times on Sundays to enable twosomes to spend time together and get around the course easily. No need to play through larger groups, just keep up with the two players in front of you, while you enjoy spectacular scenery and the whisper of the wind in the pines.
Do you treasure the scenery and fresh air as you walk the golf course? A number of our members do as well, and walk every time they play. Other members prefer the convenience of driving a golf cart. We offer daily rental of carts, as well as annual cart rental plans. Once you become a resident of The Rim Club, you may want to purchase a cart - a preferred mode of transportation within The Rim Club's private gate – and take advantage of our one of our trail fee packages for unlimited golf and use of your private cart.
Honors
Ranked #1 - Golf Week Magazine Best Golf Community West of the Carolinas (2014)
Ranked #2 - Golf Week's Best Residential Golf Courses in Arizona (2017)
Ranked #9 - Golf Digest's Top Venues in Arizona (2015-2016)
Ranked #16 - Golf Week's Best Residential Golf Courses in America (2017)