Welcome to The Rim Golf Club – Arizona's Best Kept Secret
Nestled in Arizona's spectacular Mogollon Rim Country, amid the largest stand of Ponderosa Pines in the nation, The Rim Golf Club is the ultimate golf experience in the southwestern United States. Serene and picturesque, rustic and romantic, The Rim Club is one of the nation's premier gated golf course communities.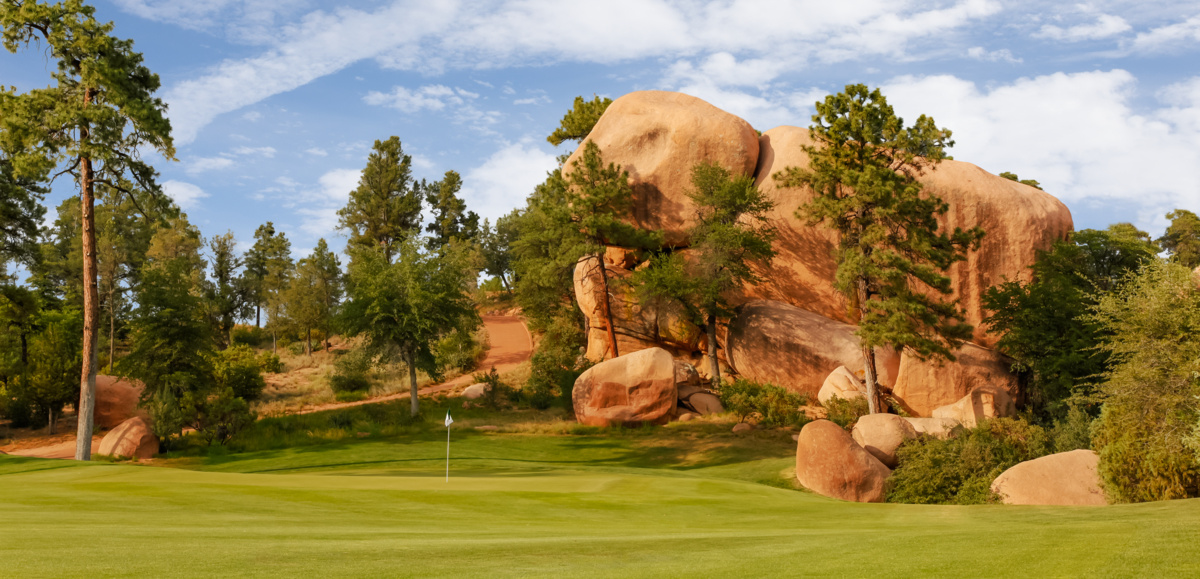 The relaxed ambiance of The Rim Club greets you upon your arrival. As you stroll toward the practice area to loosen up, a breathtaking expanse of high country panorama unfurls in front of you. Cool mountain air envelops you. Unbelievable blue skies glisten above you. You are reminded of Colorado, North Carolina, or Oregon -- can this really be Arizona?
YES! And unbelievably, only 90 minutes proximity from Phoenix and Scottsdale! A stress-free, beautiful drive north out of the desert, through the Valley foothills, along the Maztazal Mountains takes you to the crest of the hill where you capture your first view of the majestic Mogollon Rim, shimmering in the distance at an altitude of 7000 feet. You've arrived in Payson, Arizona - - elevation 5000 feet.
Famed golf designers Tom Weiskopf and Jay Morrish were given first priority to create the finest golf course corridors on the forested property. The resulting lots are meticulously situated to take full advantage of incredible views, while maintaining privacy and seclusion. In fact, half of the 555 acre retreat remains in its natural state: shaded by towering Ponderosa Pines, providing haven for bald and golden eagles, ospreys, great blue herons, and much other wildlife.
Central Arizona offers the most beautiful four-season climate in the country. Summer temperatures are twenty degrees cooler than Phoenix in the day, followed by luscious cool summer evenings, perfect for sitting on your deck with friends. Fall lingers in the Mogollon Rim, with trees changing colors slowly alongside the golf course. Winter brings spectacular, sunny, crisp days and cold, clear nights; you've never seen a blanket of stars like you'll see at The Rim! The Rim's dry climate, clean air, and cloudless skies will invigorate you, whether you are here to retire, escape the Valley heat, or just enjoy a secluded refuge from the rest of the world.
Year-round golf is the order of the day, with the course groomed to tournament conditions daily. Yes, that's right: The Rim is never closed for over-seeding! Our greens roll true for twelve months of the year, and are widely regarded as the best in state -- if you are not too distracted by the remarkable views to concentrate on your putting, of course.
With expansive panoramic vistas, exceptional golf course design, and personalized attention to your golf experience, The Rim Golf Club delivers the very best lifestyle experience that Arizona has to offer!